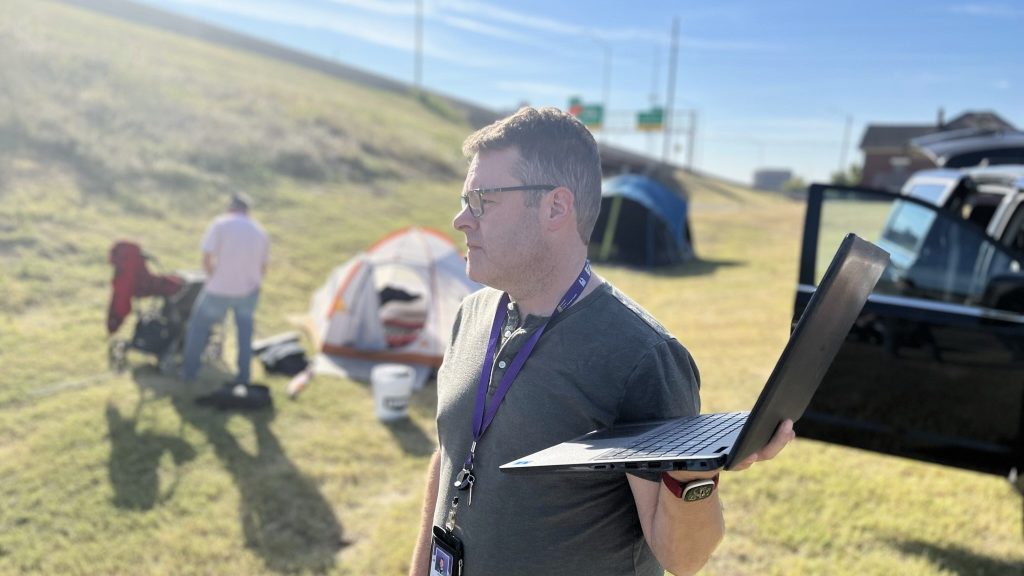 For media opportunities during the PiT Count, please email jwade@housingsolutionstulsa.org with a preferred morning or afternoon. Additional information will be provided the week before Jan. 27.
Housing Solutions is preparing and recruiting volunteers for the annual Point-in-Time (PiT) Count, a literal count of sheltered and unsheltered people experiencing homelessness in Tulsa County.
Volunteers and A Way Home for Tulsa (AWH4T) outreach professionals fan out across the county to conduct brief surveys, which are used to evaluate the needs of Tulsa's homeless population. The teams will conduct the surveys Jan. 27-28.
"This count informs all of our strategies to make homelessness rare, brief and non-recurring in Tulsa County," said Becky Gligo, Housing Solutions executive director. "We get to see where Tulsa is progressing, such as recent declines in veterans experiencing homelessness, or where Tulsa needs additional support.
"Overall, we've seen homelessness increase in major cities across the country since the pandemic began, and Tulsa is no different," Gligo said. "The PiT Count is critical to understanding the patterns and trends in homelessness not just in Tulsa but across the nation."
PiT Counts are conducted simultaneously across the country during the last week of January to get an accurate comparison among communities. The nationwide data guides federal spending, such as the $5.3 million Youth Homelessness Demonstration Project grant that the U.S. Department of Housing and Urban Development awarded Tulsa in October.
In addition to outreach teams, each shelter provider, including transitional housing, bridge housing and safe-haven providers, conducts a survey with every person who slept in their facility.
The 2022 PiT Count found 1,063 individuals, including children, experiencing homelessness in Tulsa. Of those, 8% were veterans, 38% were unsheltered, 55% reported a personal history of incarceration and justice involvement; 67% reported having a disabling condition, and 86% reported first experiencing homelessness in Oklahoma.
"This is a community-wide effort to reach each and every person in Tulsa County experiencing homelessness," Gligo said. "The count isn't just about data. The PiT Count is the basis for a relationship between Tulsans with housing and Tulsans without. Our strategic work the rest of the year builds on that relationship and places people on a path toward housing."