Sarah Grounds is the Executive Director of the City Lights Foundation, an organization that she co-founded in 2013. They started as a grassroots effort called Night Light Tulsa. Night Light is a weekly outreach under a bridge in downtown Tulsa. It's purpose is to provide community, dignity, hope, and resources to Tulsa's vulnerable neighbors. As Night Light grew, the City Lights Foundation of Oklahoma was formed, and they began serving the West Tulsa area in addition to people in the downtown area. Everything they do is led by their belief that meaningful relationships will restore community. They believe in moving people into a lifestyle of service and community and that by connecting human to human, we see real change. Over the years, they have been able to engage in more targeted case management as they walk with those they serve. Currently, due to the COVID-19 crisis, City Lights is coordinating and operating a 65 bed quarantine and isolation hotel in which the goal is to allow residents to shelter-in-place while also connecting them to stable housing and surrounding them with community. This most recent work has provided an avenue to walk full circle with those they have the honor of serving.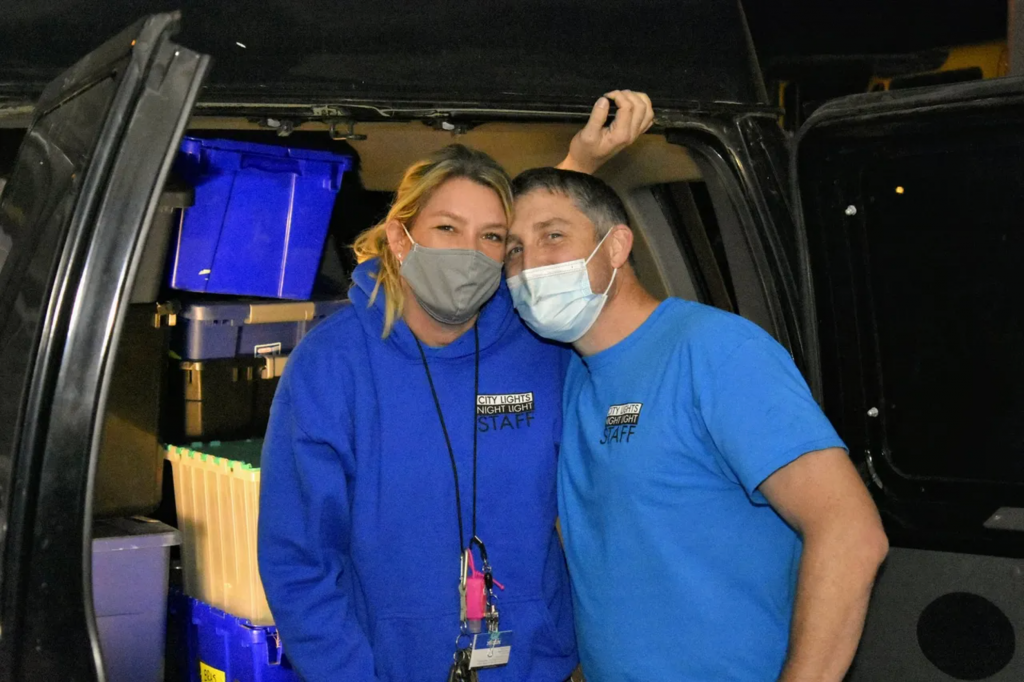 Why did you choose to get into this work?
Community. I went through a significant illness in which my entire community supported me and my family. After that, my husband and I began looking for ways that we could bring community to others that didn't have people to walk with them. That "why" has grown and deepened. As we started getting into the trench with others, we began to learn of the barriers and injustices that our friends were experiencing. The things we thought we understood were challenged and we were forced to look at things through a different lens. This grew into a deeper passion for people and a desire to create an environment where the stigma associated with homelessness is constantly challenged and disrupted so that we can begin the real work of dismantling the barriers these friends face.
What inspires you to keep doing this work?
There are two main things that continue to inspire me in this work.
The people- all of them! I love watching volunteers step out of their comfort zone and walk away changed because they spent time with someone they wouldn't have typically been with, and I love the guests that we serve- they are constantly teaching me about hope, perseverance, and grit.
Belief- that we can do better and that people deserve better. I know that together we can build a community where our vulnerable neighbors can thrive.
What can other Tulsans do to help make homelessness rare/brief/non-recurring?
Meet someone experiencing homelessness and support those doing the work. Each of us have a part in caring for our neighbors- but first we have to be willing to "see" them!