Continuum of Care Membership Information
The Tulsa City and County Continuum of Care (CoC), known as A Way Home for Tulsa (AWH4T), serves as the local planning body that coordinates the community's policies, strategies, and activities toward ending homelessness.
AWH4T is a collective impact of over 30 voting organizations that exists to plan and implement strategies that support a system of outreach, engagement, assessment, prevention and evaluation for those experiencing homelessness, or those persons at risk of homelessness, within Tulsa City/County.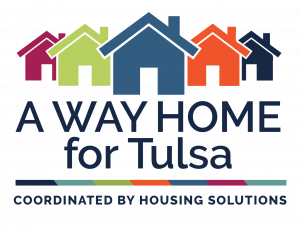 Membership for AWH4T is always open. AWH4T members support the efforts of the CoC to achieve its goal of preventing and ending homelessness in the Tulsa area.  AWH4T members are encouraged to serve on a committee or task group.    
If you are interested in applying for membership to A Way Home for Tulsa (Tulsa CoC), sign up for the next Member Interest Forum using the link below. If you are still interested in becoming a member after the session, your organization will be on the all-member meeting agenda. 
Contact us at housingsolutions@housingsolutionstulsa.org if you have any questions.