Continuum of Care Membership Information
The Tulsa City and County Continuum of Care (CoC), known as A Way Home for Tulsa (AWH4T), serves as the local planning body that coordinates the community's policies, strategies, and activities toward ending homelessness.
AWH4T is a collective impact of organizations and individuals that exists to plan and implement strategies that support a system of outreach, engagement, assessment, prevention and evaluation for those experiencing homelessness, or those persons at risk of homelessness, within Tulsa City/County.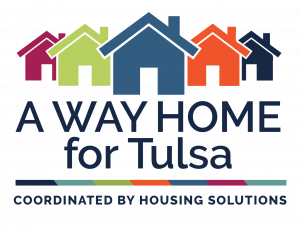 Membership in A Way Home for Tulsa (AWH4T) is open to any nonprofit, for profit, individual, or governmental entity that is committed to ending homelessness or assisting people who are homeless or at risk of becoming homeless. Following the application submission, the lead agency will review the application and send the next steps accordingly.
Housing Solutions is designated to carry out the activities of the CoC, including fiscal and compliance activities. As such, they administer and manage CoC Membership in accordance with the guidelines established and approved by the Governance Committee of the OK-501 Tulsa County CoC.
Housing Solutions also serves as the Homeless Management Information System (HMIS) Administrator for the CoC. HMIS allows our community to record, track, and report results of individual agency accomplishments, as well as measure how the entire community is performing. Access to HMIS is available only to active members of the CoC.
Questions about CoC Membership – contact Erin Velez at evelez@housingsolutionstulsa.org.