Housing Success: Edythe gets a home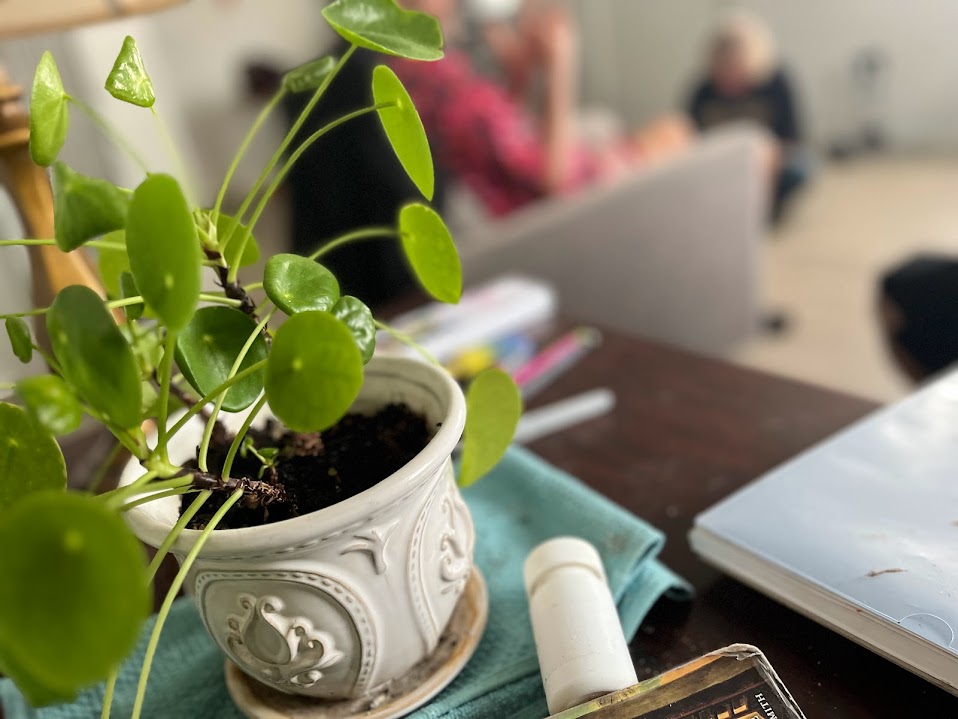 Editor's note: Housing Solutions avoids identifying clients in most cases. The following story changed the client's name and obscures her image in photos.
Edythe's new apartment seems basic.
It's got a bedroom and a living room that's also a dining room. The dining room is also kind of part of the kitchen.
The walls are pretty bare, but her mornings involve a very-important stream of coffee and pastel art that may soon decorate her new home.
"I did that yesterday," she said. "I actually called it home."
Last year, A Way Home for Tulsa agencies helped 2,176 people achieve or retain housing.
Although the number of people housed has significantly increased in recent years, so has the need. People like Edythe have to endure living on the streets, couch surfing or navigate shelters for longer due to a growing lack of affordable housing.
The Tulsa Housing Study shows the median home price has increased 43%, from $130,000 to $187,000, since 2018. Rents have increased, as well, but occupancy rates have hovered above 95% in the same time.
Whether looking to buy or rent, everyone in housing need is having trouble and waiting longer for an opportunity within their reach.
Three long years and then housed over brunch
Edythe's recent experience with homelessness began in 2020.
"I became homeless when the first wave of COVID hit," she said.
She lived in a wooded area just off the Arkansas River for about six months.
She began working with Housing Solutions outreach team members and secured housing vouchers but struggled to find a landlord who accepted them.
At a meeting with Housing Solutions outreach specialists Rafa Arrington and Alicia Gardner at Edythe's favorite downtown eatery, they discussed the struggle when an eavesdropping diner spun around in her chair.
It was Tulsa City Councilor Laura Bellis.
After hearing some details, Councilor Bellis made a few phone calls and handed Edythe the information for a downtown landlord with a vacancy and her personal cell number.
"She came over and said, 'Here's a number to call. Call me if you have any issues,'" Arrington said. "It was pretty cool."
Councilor Bellis said she was listening in because she picked up an all-too-familiar story: someone who has housing vouchers in hand but can't find a landlord to accept them.
"Coming from a nonprofit background, it's very frustrating," Bellis said. "I was sitting there and hearing Rafa make call after call after call. It's so much pressure to come through for that person."
Bellis remembered several constituent developers who previously told her they had space and would accept housing vouchers, so she reached out.
"If you can help at all, you should," Bellis said.
Arrington said Edythe would have had to wait even longer due to scarcity if Councilor Bellis hadn't jumped in.
"She even gave us her cell phone number and insisted we call if we ran into any issues with the apartment," Arrington said. "She is amazing."
Stability starts with housing
Since getting her new apartment, Edythe has been making it her own and solving basic new-homeowner problems.
The Merchant Tulsa provided Edythe with a table and chairs, and Housing Solutions provided other basics, such as cookware and kitchen appliances.
One major issue for people experiencing homelessness is mobility. Loss of housing means losing assets, often including cars and bikes.
Rafa Arrington and Alicia Gardner identified Edythe's lack of mobility as a major issue that could limit her success in housing, so they helped her get a Huffy mountain bike.
"I don't feel trapped with a bike," Edythe said. "It doesn't make me feel confined. I don't like to feel trapped. Having a bike gives me freedom. I can do what I want when I want."
Now, Edythe is visiting friends, going to her favorite lunch spot and making regular trips to the store.
"I made a dozen trips over the weekend, so I'm recuperating. My legs are not as young as they used to be," she said. "It keeps me fit and young. I can walk further than anyone my age."
Making a house into a home
Edythe wants to help others – but not just those facing homelessness.
She wants Tulsans to understand the issue of homelessness better and to solve it together.
She compares it to cleaning a home: the job isn't done until the whole house is clean.
From her point of view, Tulsa is half clean while the other half gets dirtier and forgotten.
"We need to do something about people experiencing homelessness," Edythe said. "If you want to clean your home, you start at the bottom and work up."