The Tulsa Point-in-Time Count is an annual count of individuals and families experiencing homelessness completed as a mandate from the U.S. Department of Housing and Urban Development (HUD). The count is completed on one day during the last 10 days in January using a combination of survey responses and Homeless Management Information System data.
The survey instrument contains basic demographics required for reporting to HUD as well as more in-depth questions added by the A Way Home for Tulsa team to better understand the needs of individuals and families who are experiencing homelessness. It is important to keep in mind that this data is primarily self-reported and provides only a brief snapshot of homelessness in Tulsa.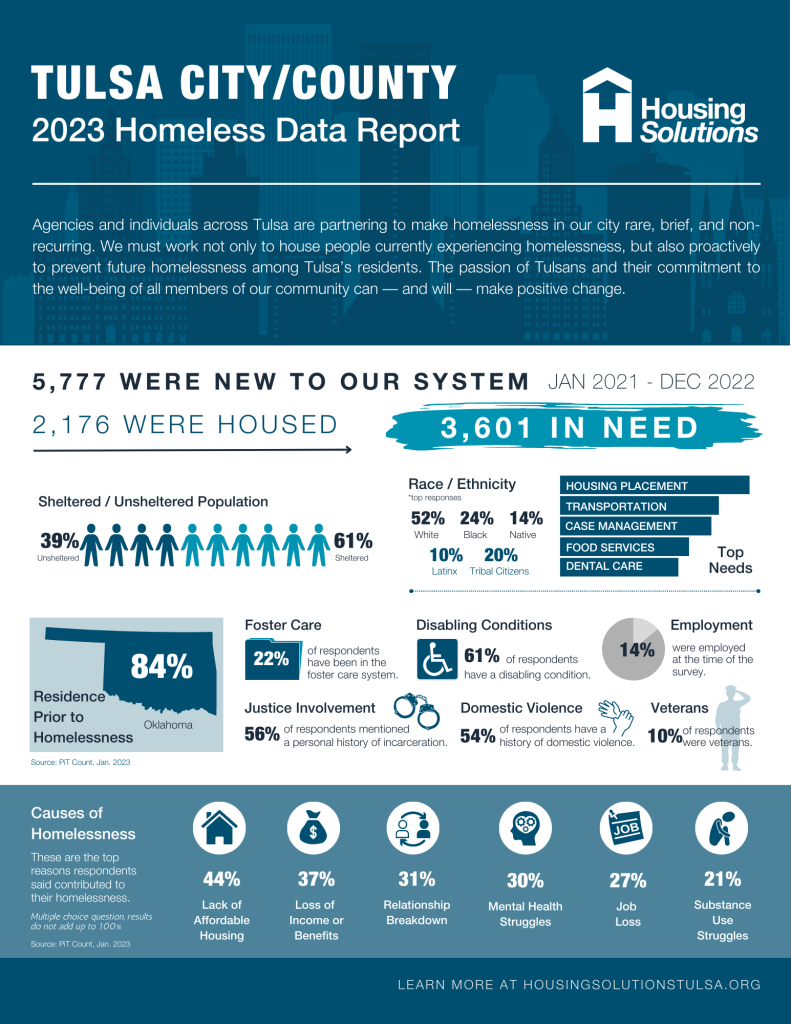 We have been completing the annual Point-in-Time (PIT) Count of individuals and families experiencing homelessness for fifteen years. This dashboard includes a nine-year longitudinal analysis of Point-in-Time Count survey responses. Hover over each data set below to view year-by-year trends. High-level takeaways for 2023:
     – 14% are currently employed
     – 20.5% of respondents are tribal citizens
     – 30% reported mental health struggles as a cause of homelessness
     – 54% stated domestic violence was a factor related to their homeless experience
     – 7% decrease in individuals that reported chronic homelessness
     – 3% decrease in individuals aged 18-24
     – #1 cause of homelessness reported: Lack of Affordable Housing
     – #1 need reported: Housing Placement
Do you want to learn more about our 2023 Point-in-Time Count data? Do you have questions about housing and homelessness? Do you want to know how you can help? We would love to come to your meeting or event to talk about homelessness in Tulsa. Simply fill out this request form and someone from our team will reach out to coordinate. 
You can access the link to the data presentation here. 
Housing Inventory Count Data
The Housing Inventory Count (HIC) is a tally of the beds and units provided by agencies and programs within a Continuum of Care (CoC), intended to be used for people experiencing or exiting homelessness. The HIC is conducted the same day as the Point-In-Time (PIT) Count and used to measure the utilization of these programs to highlight the shelter and housing needs of a CoC. AWH4T saw a 97% occupancy rate for these beds and units, reflecting an increase in utilization of these programs over the last year. While this data does reveal a trend of a slight increase in units and beds provided each year, it reflects an even larger influx of people utilizing these programs. This increase in the number of people the CoC is serving demonstrates the growing demand for more beds and housing units within AWH4T, mirroring Tulsa's overall demand for more affordable housing.